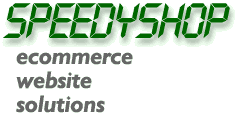 What is Speedyshop?

+ about the company

Why Speedyshop?

+ your website
+ safe & secure
+ no extra credit card charges
+ no hidden costs
+ customer confidence
+ above all, it works

The Guided Tour

+ consistent, easy to use site navigation panel
+ fast, dynamic shop window
+ constant online customer services
+ clear product information
+ fast search engine
+ versatile design templates
+ easy admin
+ all the advice and support you need

Pricing

+ speedyshop gold
+ speedyshop platinum
+ custom prices

How to Contact Us

+ by telephone
+ by email

The Guided Tour
CONSISTENT, EASY-TO-USE SITE NAVIGATION PANEL The Speedyshop site navigation panel enables your customers to quickly find whatever it is they are looking for, no matter where they currently happen to be on your site.

Each of your Speedyshop pages will display your site navigation panel. Designed by us in your company colours and corporate style, your site navigation panel is the friendly interface between you and your customers.

A fast search engine enables customers to search your web catalogue for products and services simply by typing in what they are looking for.

Groups of related products may be presented as links which customers can click to view all available products in the categories you have designated. Optionally you may provide extra links which search your catalogue in different ways, by type or by keywords for example.

a the old school, greenfield, bedford, mk45 5de, uk
t 01525 718181 f 01525 713716 w speedyshop.com
Copyright © 2000-2001. All Rights Reserved.
This page was last updated on Thursday, January 4, 2001.